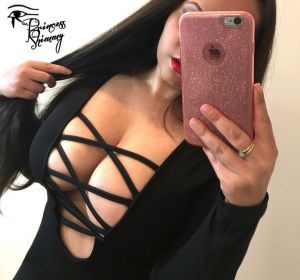 Greetings bitches, My name is Princess Shimmy – and I am the original Femdom Witch & High Priestess of Slaves.
As a financial dominatrix, chastity keyholder & hypnodomme of over 10 years I have perfected My craft to an expert degree.  Knowing what makes you tick and understanding the psychology of the submissive male makes Me very dangerous to manhood, dignity and wallet.  Once you get trapped in My web, there will be no turning back for you because serving Me is incredibly addicting and thrilling beyond anything you've ever experienced before. 
I have a combination of skills & interests that made Me into a true femdom fatale! My fetishes and interests listed below and just a few of many.
My Fetish Specialties are:
Erotic Hypnosis 
As a HypnoDomme I am an expert in hypnosis, mind control & NLP. I'm well versed in a multitude of methods of putting you under My hypnotic control.  I have many guided meditations & visualizations that will take you deeper than you've ever gone before.  My brainwashing skills are sharp, cunning and subversive. All My content is uniquely crafted in a way to reprogram your mind, effortlessly and automatically!
Chastity Keyholding 
As a firm believer in female supremacy I believe orgasm denial & chastity to be a powerful tool in training My slaves to be obedient & submissive. I love chastity and am one of the most popular online keyholders on the web! Thousands of slaves all over the world have locked their cocks up in the name of Princess Shimmy.  I have many ways to train you to be better chastity slave;  Chastity challenges, audio mp3s, spells & video clips to name a few.
Femdom Witchcraft 
As a real, practicing occultist and dark sorceress it was only natural for Me to combine the occult with My love of femdom.  I've been using black magick to control, dominate & get what I want from My slaves since the beginning! LOL.  I accredit all of My success in online femdom & My epic domination of males all over the world to My superior manifestation skills & spiritual knowledge. I love using candle magick, voodoo dolls, hoodoo and various spells and curses to bind you to My will.  My spells are real and oh so dangerous and certainly not for the faint of heart!